First and foremost, I would like to wish each and everyone of you a Happy Thanksgiving...I hope that your days were fun, safe, and filled with great food. I must admit, I've never been big on Thanksgiving, and it's not because I'm not thankful for everything I've been blessed with; honestly, I'm not sure what it is. This Thanksgiving was very different though, I guess after you've been through as much as I've been through these past couple of years, you learn to appreciate things a lot more than you used to. You should never let a day go by without letting your family and friends know how much you love them; I ALWAYS let my family know how much I love them, but friends are a little different. Now, don't get me wrong, I love my friends, but I'm sure it'd be weird if I'd tell them that I loved them every single day, especially a select few. If they were to have any doubt though, they should know that I'm very thankful for them.
In other news, I did absolutely nothing today, except for stuff my face (which I refuse to work off) and finished reading my book, "Ain't No Sunshine," and I must say that book was MAGNIFICENT. I don't think I've ever read a book with so many twists and turns, but it was done very tastefully. I don't wanna spoil the ending, but I guarantee you, you will not see it coming. Leslie DuBois is an amazing author, whose books touch on some very touchy subjects, including interracial relationships. The next book on my list is "The Queen Bee of Bridgeton" by Leslie DuBois.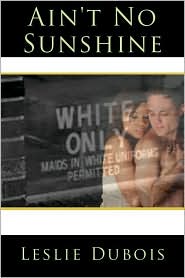 Everyone should read this book...it definitely makes you wonder: HOW FAR WILL YOU GO TO BE WITH THE ONE YOU LOVE??